Today (Monday) was a day when we really started getting a feel for being in Harare.
We began with a workshop at the Zimbabwe College of Music. Some of the students were jazz performance majors, while others were studying ethnomusicology. The program (or programme, if you will) began with the student marimba ensemble performing several selections. It was a beautiful and energetic way to start. The ensemble used a family of Zimbabwean instruments similar to those pictured below.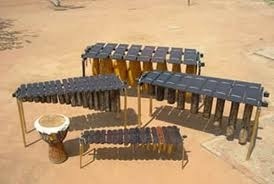 We also heard the school's jazz band which featured two very talented singers. We then proceeded with our workshop which ended with a spontaneously composed piece which incorporated the marimbas and jazz instruments. At one point, we had multiple master classes going on simultaneously on stage in a scene that was chaotic, but productive.

After we answered a number of questions, the session closed with the school's jazz band playing a farewell song featuring their male vocalist. He is a talented entertainer with a beautiful voice and charismatic stage presence.
After lunch, we moved to the club Jazz 105 for another workshop. We had a some electrical challenges getting set up – no power cord for the keyboard, unreliable wall socket, problematic amplifier….. It took a while, but we finally got up and running. Again the program was supposed to begin with a performance by the local musicians, but things didn't quite go as planned and it took some time before things got flowing. We were told that the group would include a lot of professional musicians so we did more jamming than we would at a normal workshop in order to hear them play and sing.
One of the main features was a performance of The Cool Crooners with us backing them. These three gentlemen were a true pleasure to meet and work with. They had taken a long bus ride up to Harare from their native Bulawayo to be at the event, which was a great honor for us.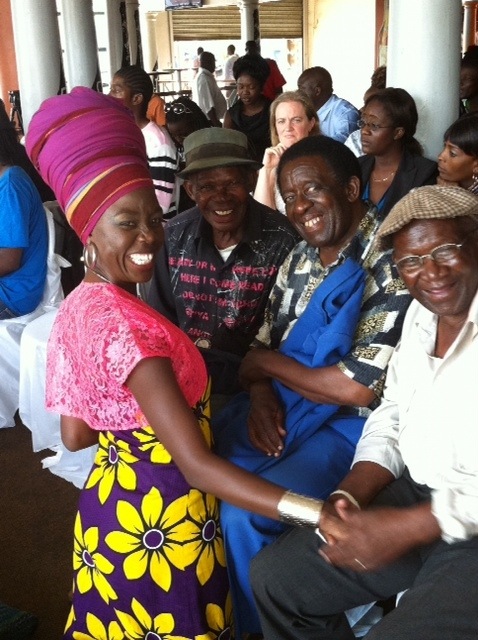 A break at the hotel ensued before the official evening jam session back at the club. At the hotel, I noticed that my iPod Touch was missing (the very device that allows this blogging to take place). I was worried that I had permanently lost it, but as soon as we returned to Jazz 105, a local pianist whom I had met earlier brought it up to me. He had found it and set it aside. What a relief! This was only one example of how friendly and helpful people have been here.
We started off the evening by playing a few tunes, then brought up The Cool Crooners.
After that, it was a musical party as we freely mixed with local musicians performing a variety of styles. It was a lot of fun for us and it gave us a chance to get a taste of the local scene and hear some outstanding musicians. For another take on the evening, read the Newsday review
Thanks, Harare, for the good time!!