Today (Monday) was our last working day on the tour. The event originally scheduled for this morning was cancelled recently and replaced last week by a performance for the students at the vocational school Instituto Médio Industrial de Luanda (Intermediate Industrial Institute of Luanda).

We played in a large gymnasium with a stage, but set up on the floor in front of the stage in order to be close to everyone.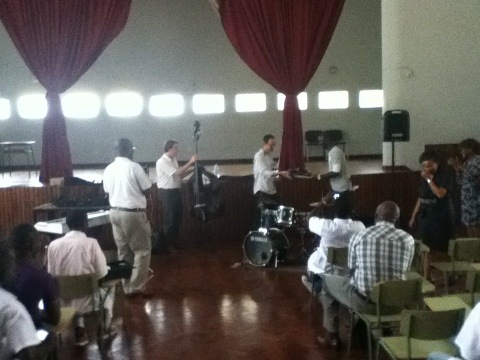 This was only scheduled to be an hour long so we ran it as a hybrid workshop/performance: two tunes, then 1st blues w/drum call and response, 2nd blues w/melodic call and response, Bebop, questions and answers (w/translator), final tune, Muxima. About two hundred fifty students showed up and were extremely enthusiastic throughout. The questions were good and lots of kids came up afterward for photos with us. I only had a couple of dozen CDs to give out and sign, so they went fast. The event might have been organized last minute but it felt like a perfect fit for both us and the school!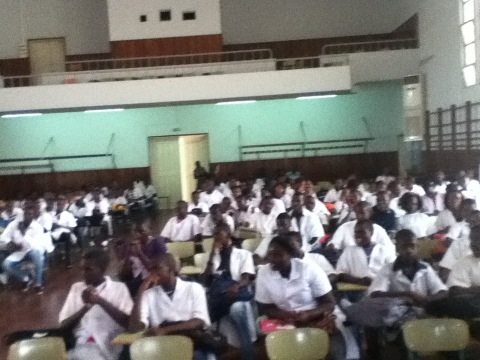 ____________
The afternoon session was billed as a jam session and took place at the Galeria Celamar. A nice number of musicians turned out for it. We played with some of them and others just played/sang their own music. It was part playing with each other and part playing for each other. The event started with a power outage that took a while to overcome. Because of that, the first group to play was a septet of women playing large traditional carved wooden drums. They didn't need electricity other than what they created with their music. Next we played one tune as a quartet, followed by one with Sandra Cordeiro. After that it was a party. A number of singer/guitarists did a song or two. We played again accompanying a couple of singers including one singing Muxima. One of the internationally renowned Kafala Brothers played a few numbers. There were media members filming and interviewing and generally adding to the bustling atmosphere of the proceedings.
____________
In retrospective, this jam session embodied what our trip was about: sharing. We had the chance to share our music, our time, and our humanity with people in Malawi, Zimbabwe, Sough Africa,and Angola. In return, people here generously shared their thoughts, lives and music with us. Simple. Beautiful! Thanks to everyone who helped make it happen. We had a great time.
____________
Angola Press Agency article
____________